Bahawalpur is a city located in the Punjab province of Pakistan. Bahawalpur is the 11th largest city in Pakistan, as per the 2017 census, with a population of 762,111. Founded in 1748, Bahawalpur was the capital of the former princely state of Bahawalpur, ruled by the Abbasi family of Nawabs until 1955. The Nawabs left a rich architectural legacy, and Bahawalpur is now known for its monuments dating from that period. The city also lies at the edge of the Cholistan Desert and serves as the gateway to the nearby Lal Suhanra National Park. The area known as Bahawalpur State was home to various ancient societies. The Bahawalpur region contains ruins from the Indus Valley Civilisation and ancient Buddhist sites such as the nearby Patan minara. British archaeologist Sir Alexander Cunningham identified the Bahawalpur region as the home of the Yaudheya kingdoms of the Mahābhārata. Before the establishment of Bahawalpur, the region's major city was the holy city of Uch Sharif – a regional metropolitan centre between the 12th and 17th centuries renowned for its collection of historic shrines dedicated to Muslim mystics from the 12-15th centuries built in the region's vernacular style. Bahawalpur was founded in 1748 by Nawab Bahawal Khan I, after migrating to the region around Uch from Shikarpur, Sindh. Bahawalpur replaced Derawar as the clan's capital city. Initially, the city flourished as a trading post on trade routes between Afghanistan and central India. In 1785, the Durrani commander Sirdar Khan attacked Bahawalpur city and destroyed many of its buildings on behalf of Mian Abdul Nabi Kalhora of Sindh. Bahawalpur's ruling family and nobles from nearby Uch were forced to take refuge in the Derawar Fort, where they successfully repulsed attacks. The attacking Durrani force accepted 60,000 rupees as nazrana tribute, though Bahawal Khan later had to seek refuge in the Rajput states as the Afghan Durranis occupied Derawar Fort. Bahawal Khan returned to conquer the fort by Uch and re-established control of Bahawalpur.
Places to Visit
Head Panjnad
(Punjabi, Urdu: پنجند) is located in Punjab, Pakistan. It is a beautiful picnic spot and an agricultural area near Uch, Bahawalpur and it is where all the five rivers of Punjab merge.Panjnad Headworks or Panjnad barrage has three canals: Panjnad canal, Abbassia canal, and Abbassia link canal. In 2020 head punjnad barrage remodelling done to increase it water passing capacity for semi-automatic control of gates. These canals irrigate Bahawalpur and Rahim Yar Khan districts and the northern Sindh area.
Ss World Park
SS World Amusement Park have been opened in the city of Bahawalpur, it is a state of the art amusement park which provides entertainment and enjoyment for whole family at affordable ticket price & great location.SS World Amusement Park offers indoor and outdoor games, water steam, water fall and also has one of the best food court in the city of Bahawalpur.SS World Park Bahawalpur Ticket Price, Location & Timing.
Lal Suhanra National Park
The national park was established on 77480 acres in 1972 for conservation and propagation of endangered fauna and flora in cholistan.An area of 50000 acres was further added in 1984 & 35088 acres was added in year 2000 making the total area of lal suhanra national park 162568 acres.
Tomb of Bibi Jawindi
Dating to the 15th century, the shrine was built in 1493 by an Iranian prince, Dilshad, for Bibi Jawindi, who was the great-granddaughter of Jahaniyan Jahangasht, a famous Sufi saint.
Derawar Fort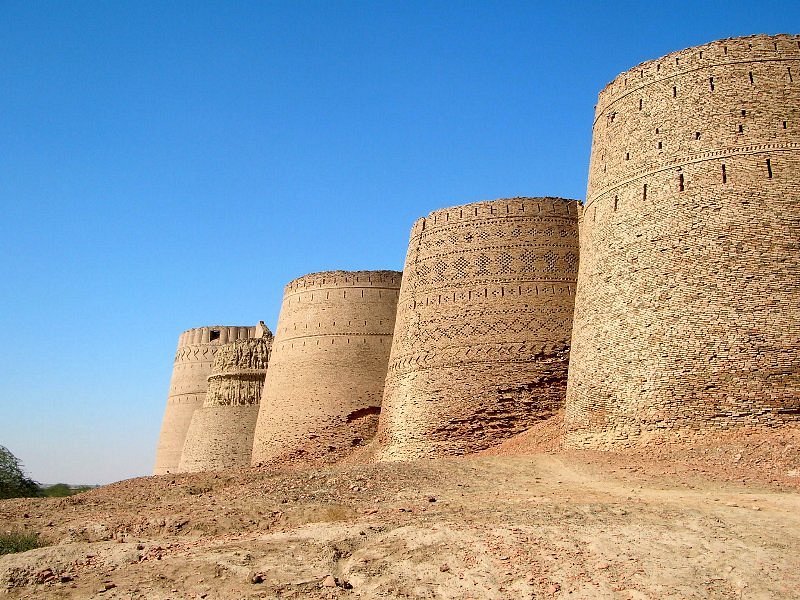 Derawar fort was first built in the 9th century AD by Rai Jajja Solanki, a Hindu Rajput ruler of the Solanki clan, as a tribute to Rawal Deoraj Bhati, the king of Jaisalmer and Bahawalpur. The region was part of Emirate of Multan ruled by the Arabs.
Darbar Mahal
Darbar Mahal is a palace in the city of Bahawalpur, Pakistan. The building was built to hold courtly events and government offices of the former princely state of Bahawalpur. The palace was built by Bahawal Khan V, and initially named Mubarak Mahal.
Noor Mahal
The Noor Mahal is a Pakistan Army-owned palace in Bahawalpur, Punjab, Pakistan. It was built in 1872 like an Italian chateau on neoclassical lines, at a time when modernism had set in. It belonged to the Nawabs of Bahawalpur princely state, during British Raj.
Abbasi Jamia Masjid Qila Derawar
Abbasi Mosque is a mosque located close to Derawar Fort in Yazman Tehsil, within the Cholistan Desert in Bahawalpur District, Punjab province of Pakistan. It was built by Nawab Bahawal Khan in 1849.
Jalaluddin Surkh-Posh Bukhari
Bukhari is a Sayyid from Naqvi denomination, a descendant of the Islamic prophet Muhammad through his grandsons Husayn ibn Ali and Hasan ibn Ali. Bukhari was born as Jalaluddin Haider. Bukhari was nicknamed Surkh-Posh ("clad in red") because he often wore a red mantle.
Bahawalpur Zoo
Bahawalpur zoo was set up in 1942 by the former Aamir of Bahawalpur, Sir Nawab Sadiq Muhammad Khan Abbasi. It was then named "Sher Bagh" (meaning "lion garden"). In 1955, the administrator of the zoo Dr. Ghulam Haider Sumra was transferred to the Department of Agriculture.
The Abbasi Royal Graveyard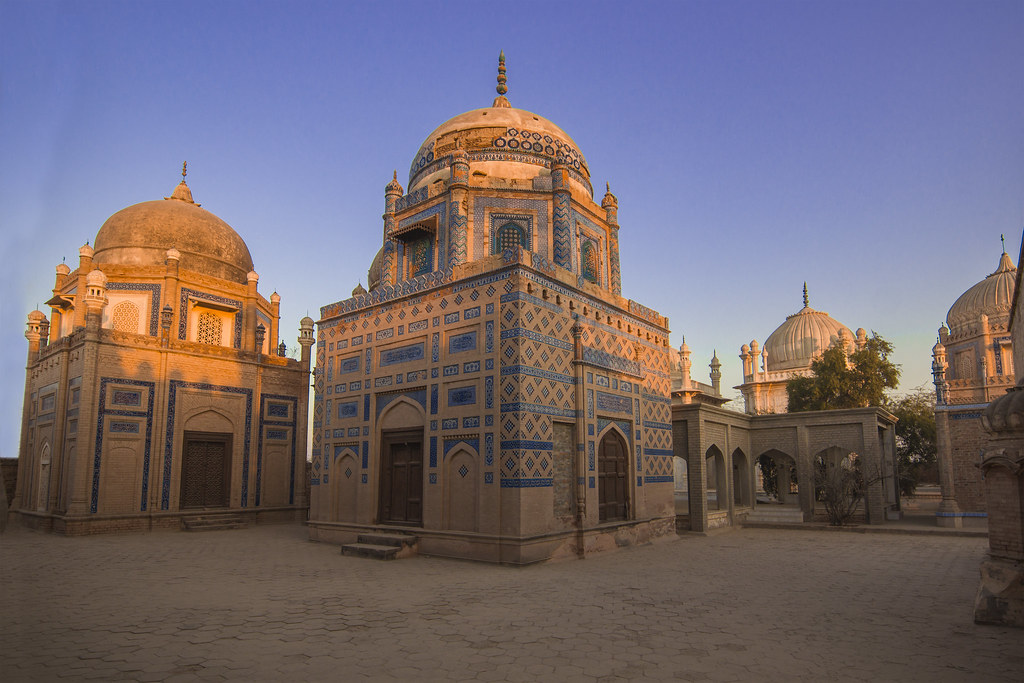 The Abbasi family was the ruling Nawab family of Bahawalpur and all of the previous Nawabs are buried here. The graveyard is still owned and controlled by the Nawabs surviving family members. There is one large size rectangular room that contains the graves of all the 12 Nawabs that ruled the Bahawalpur State.
Gulzar-e-Sadiq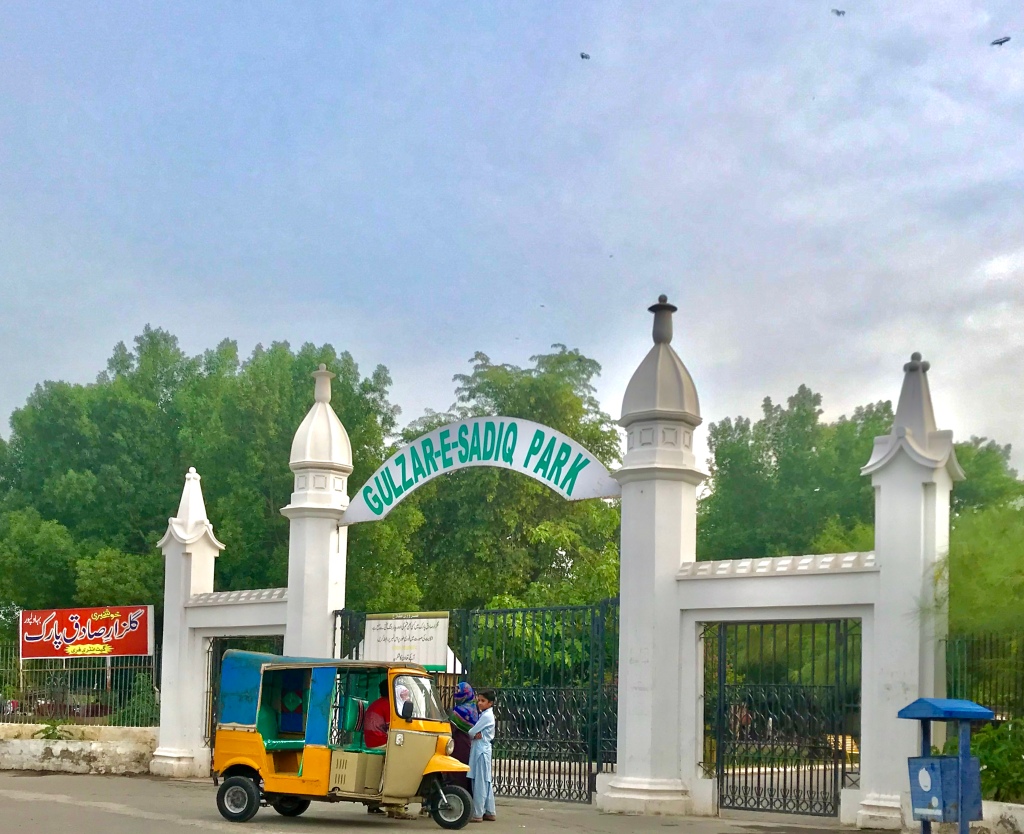 Gulzar-e-Sadiq is a public park named on the Nawab of Bahawalpur and later on Amir of the State of Bahawalpur Nawab Sadiq Muhammad Abbasi. Park is situated opposite to Eid Gah of Bahawalpur. Entrance is free .There is lake, children play ground and wide grassy parks with beautiful trees. A worth seeing place. It is a good place for those who are looking for natural environment. It has a large fields with lush green grass. Children should enjoy this place.There is also a walking track near about 1.5 Kilometer.
Jamia Masjid Al Sadiq
Al-Sadiq Mosque is a mosque located in Bahawalpur, Punjab, Pakistan. Its foundation stone was laid by Great Sufi of Chishtia clan and the Spiritual Master of Nawab of Bahawalpur Noor Muhammad Maharvi more than 200 years ago.
Noor Palace Bahawalpur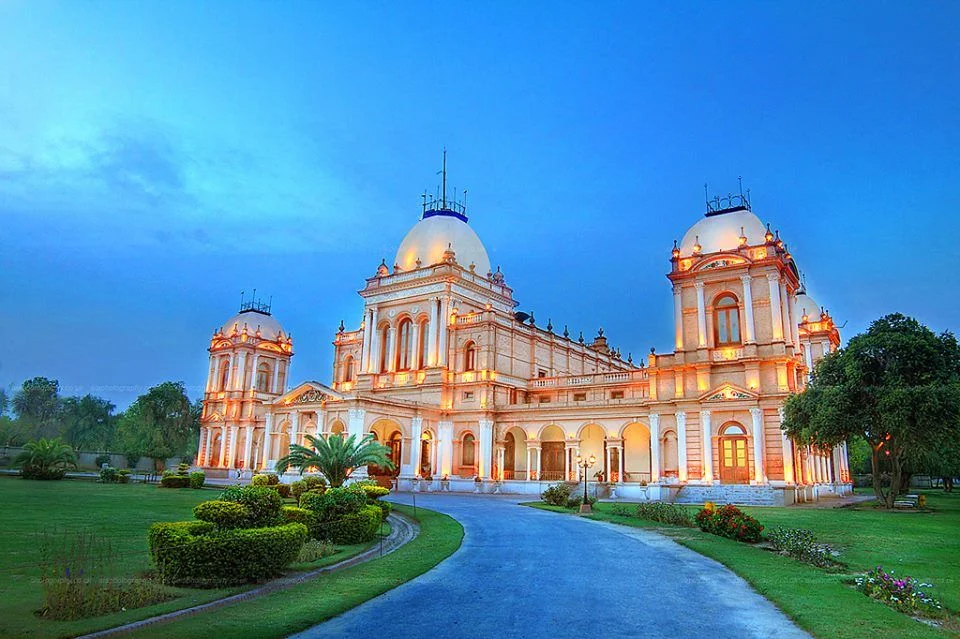 The Noor Mahal is a Pakistan Army-owned palace in Bahawalpur, Punjab, Pakistan. It was built in 1872 like an Italian chateau on neoclassical lines, at a time when modernism had set in. It belonged to the Nawabs of Bahawalpur princely state, during British Raj.
Cholistan Desert Rally
Cholistan Desert Rally started back in 2005 and has grown in leaps and bounds. The upcoming rally will mark this event's 15th edition which reflects its ever-increasing popularity. The event portrays a positive and soft image of Pakistan abroad and highlights the real beauty of south Punjab's landscape.